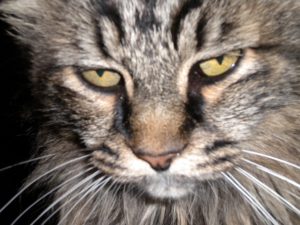 Cats are carnivores and are more susceptible to suffer from health complications if they are not fed a high protein grain free food. The actual term is "Obligate Carnivore" which means they are biologically designed to eat meat and organs. There should be No grains in their diet.
Cats Are Strict Carnivores
What your cat eats is the key to their health. Cats have evolved as carnivores so they need meat to obtain or maintain optimal health. A grain free cat food is closer to a prey model (species appropriate) diet that would be ideal for your cat to thrive instead of just survive.
When we think about our cats food we need to think of what they would eat in the wild. If they were hunting they would catch rabbits, mice and birds. And they would eat the whole thing…ALL of it. That includes the heart, liver, bones and the intestines including the little amount of stomach contents.
So if your look at the stomach size of a mouse or bird there's not much grain in there, a small fraction, maybe only 1% of a cats diet. So grains (or carbohydrates) are not a normal part of a cats diet and should not be in their food.
Should I Feed Dry Kibble Or Canned Food
So if your have read any of my other posts your know that I am not a fan of most commercial pet foods. The problems with them are more than just low quality ingredients. For cats most of the dry kibble on the market are loaded with grains or carbohydrates sometimes even up to 50%. Manufactures often times use grains and carbohydrates as "fillers" meaning they put them in to add bulk to the food.
Dry kibble is usually processed using high heat which kills the natural vitamins, enzymes and amino acids so vitamins and minerals need to be added back in but they are usually synthetic forms. And they contain too many carbohydrates effecting your cats overall health and leaving your cat in a constant state of dehydration.
Wet or canned food may have more moisture per serving but is still a processed unnatural food source that most likely still contains synthetic vitamins and minerals and too many carbohydrates.
The Problem With Grains And Carbohydrates
Cats do not have the enzymes to digest carbohydrates therefore they have no need for them and including them in their diet can actually be harmful for their health.
Carbohydrates in dry kibble like potatoes, rice, corn, soy, wheat and oats are not a natural part of a cats diet and feeding them can lead to health problems like diabetes, urinary tract problems, kidney failure, bladder inflammation, irritable bowel syndrome and even cancer.
What Protein Is Best For Your Cat
Like I mentioned earlier your cats are obligate (strict) carnivores their nutritional needs are not the same as dogs. This means that your cat is biologically built to get their nutritional needs met by consuming a high quantity of animal based proteins meaning muscle meat and organ meat. It will not get the same nutritional or health benefit from eating plant proteins such as grains and vegetables.
Animal proteins contain complete amino acids (the building blocks of protein). Plant proteins do not have the amino acids that an obligate carnivore requires.
The most well-known nutrient that cats require is taurine which is found naturally in meat. It is not found in plants of any sort. As I mentioned in an earlier post taurine deficiency can lead to blindness and heart problems. (See my post "Raw Diet For Cats")
High heat processing of the meats kills the naturally accuring taurine so pet food manufacturers add chemically processed synthetic taurine in the hopes to rebalance the nutrients to meet your cats needs.
When we burden our cats by feeding highly processed foods with synthetic additives our poor cats start to suffer from illness and disease just the same way humans do when we eat a highly processed nutrient deficient diet. It may not be noticeable right away but after years of neglect we will inevitably see our cats health decline.
Fresh Is Best
The best diet for your cat is a fresh raw meat diet, the one closest to what they would be eating in the wild.
With that in mind there are circumstances that make it hard to feed a raw meat diet. When I had 21 foster cats at one time there was no way I could possibly afford to feed them a raw meat diet.
So in situations where it is not possible to feed a raw diet the next best choices would be to find a pet food that has very few ingredients, preferably a meat based diet with zero (or very little) carbohydrates. The ones with a real meat source listed as the first, second and even third ingredients.
Look for "Human-Grade" products, this means that they have chosen quality products to use in their pet foods.
Try to avoid the foods that use grains or other carbohydrates listed as their first ingredients and contain a long list of ingredients that your can't even pronounce. If your can't pronounce it or know what it is it's probably not a good idea to have your pet eat it.
A wet or canned food would be a good choice as cats do not normally have a high drive to drink water, a natural raw diet would provide them with plenty of moisture. But look for foods that meet the same criteria as what to look for in the dry foods. Real meat as the first ingredients, very low carbohydrates and a very short list of ingredients without words that you can't pronounce.
And as always it is wise to check with your veterinarian before switching your cats food. Your cat may already have health concerns and your vet would be the best judge to determine the correct diet according to your cats individual health status and help avoid or prevent any decline in their health.