Many People are choosing to make their own cat food. But in doing so they may be leaving out important key factors that could possibly be harmful to their cat. This article identifies some of the most important issues in homemade cat food and what you must address when feeding it to your cat.
Why The Concern With Homemade Cat Foods
One of my favorite articles is one written by Dr. Karen Becker. Where She refers to a kitten that was fed only raw chicken muscle meat in the first few months of its life. This poor kitten became deficient in several important nutrients, which caused metabolic bone disease, lameness, and retinal degeneration. Luckily this little kitten recovered after a couple of months of rest and being switched to a balanced diet. But not all cats or kittens fed a nutrient deficient diet are that lucky.
As with all living creatures cats have certain vitamin and nutrient needs that are unique to them. In the wild a cat would eat almost every part of the animal it kills including some bone, the internal organs (including the stomach and its small amount of contents), and the head (including the brain and eyes). All of these parts of the prey provide different important nutrients. All these parts together make up a balanced diet
Be Sure To Supplement With Taurine
One of the most essential supplements for your cat is taurine. Taurine deficiencies can lead to serious ailments such as heart conditions and retinal degeneration. Cats do not synthesize enough taurine to meet their needs, so taurine needs to be added, sometimes even to foods that naturally contain some taurine because it degrades so easily. When you freeze meat and then thaw it out to feed it some of the taurine is lost in the liquid that comes out so try to feed the juice as well as the meat.
Other Key Nutrients To Include
Feeding a diet that is made up of one raw meat such as chicken muscle only will be insufficient in required vital nutrients such as vitamins A, B, D and E, potassium, manganese, iron, copper, zinc and iodine. There would also be inadequate amounts of enzymes and phytonutrients.
B vitamins such as niacin and thiamine (B1) are harmed by cooking, so should only be added to an already prepared food at the time of serving. Vitamin B1 deficiencies can lead to weight loss, blindness and neurological disorders and if left for too long can lead to death.
Vitamin A deficiency can lead to blindness. The best source of natural vitamin A is liver so this should always be included in their diet, if its not then you will need to supplement.
Calcium is found in bones, so if your cat is not getting fresh or ground bone in its diet daily then you will need to supplement.
A Word About Supplementation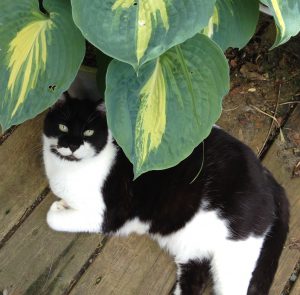 Keep in mind supplements should only be added at the time of feeding, do not add them ahead of time. Most enzymes and amino acids are degraded with heat or air exposure.
When adding supplements be sure to follow directions carefully. Cats are sensitive to too much added nutrients and certain ones in excess amounts can harm them.
Too much calcium can cause slow growth and too much magnesium has been associated with stones in their urinary tract. And vitamin A and D can be toxic in high amounts.
Things Cats Don't Need
All over the internet you can find warnings about what to NOT give to your cat. Here are just a few that stand out to me and ones that my vet has conveyed as well.
Onions and garlic have been believed to cause hemolytic anemia in large quanities. So as a general rule I do not give my cats any "people" food that contains garlic or onions even small amounts, its not worth the risk to see what the toxic amount is.
Tomatoes are another food that should not be in your cats diet. So no giving your cat your spaghetti leftovers, the combination of tomatoes, garlic, onions and carbs could be very unhealthy. (Not worth the risk).
Grains and carbohydrates such as wheat, corn, soy, potatoes, rice or oats should not be included in a cats diet. They lack the enzymes to properly digest carbohydrates and can cause inflammation in the gut leading to digestive ailments and disease.
Supplementation To Meet Your Cats Nutritional Needs
There are many varieties of supplements on the market today. Even some that can be tailored to your pets specific health concerns. The cat that has kidney disease is going to need a different supplement than the cat that has a thyroid condition. A great supplement for homemade raw diets is TC Feline Premix. It is designed to balance the homemade raw diet.
It is important to work closely with your vet so they can determine based on the food you are feeding what would be the best supplement for your cat to ensure the best species appropriate balanced diet.
I get paid commissions for purchases made though the affiliate links in this post. This does not change the price you pay. We are a participant in the Amazon Services LLC Associates Program, an affiliate advertising program designed to provide a means for us to earn fees by linking to Amazon.com and affiliated sites.